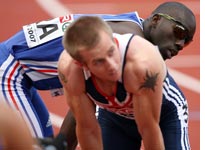 You may have read last week that International Olympic Committee head Jacques Rogge said that some Olympic events may have to be postponed if some days fail to live up to Beijing's promises of clear blue car exhaust-free skies, for the sake of the athletes competing. Smoggy days may be depressing, but most of us without lung conditions (yet) can manage to walk around in one. How much does pollution affect world-class athletes? Slate's frequently useful Exlpainer column is glad you asked. Here's what they had to say:
Scientists haven't done enough research to be sure, but it could make it impossible to break any world records. An athlete must breathe in a large amount of air during a competition—more than 20 times the amount inhaled by a normal person at rest. In Beijing, that means the athlete will be getting a super-sized dose of ozone and fine particulates, which can make respiration more difficult and reduce the amount of oxygen that gets to the muscles.  …

It is possible to develop a tolerance to ozone over just a few days, but that doesn't mean athletes should spend extra time training in Beijing. In fact, Olympics coaches advise competitors against arriving too early and recommend wearing activated carbon filtration masks.
Yikes. Read more here.
picture from Slate