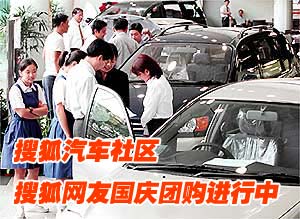 ACNielsen has just released a new report analyzing consumer attitudes toward buying a car in China.
Among other things, the report dissected the information sources Chinese consumers rely on when purchasing vehicles. Previous ACNielsen studies had shown the internet is a powerful communication tool for auto marketers, with up to 74% of the online population obtaining car news via the internet.
This report builds the picture further: around 45% of potential buyers consider automotive magazines a good source of information, 34% rate recommendations from existing owners, 26% listen to advertising and 22% think attending an auto show is a good way to pick up purchasing tips.
What surprised me, but probably should not have, is that only 16% considered dealers a good source of information (The media release did not provide a comparative figure for the role of dealerships in the car-selling process in other markets, saying only that they played a "major role").
We are all familiar with the pigeonholing of car salesmen on the lower rungs of polite society, alongside lawyers, politicians and journalists, but taken with a grain of salt the advice of a car salesman, or any other salesman for that matter, is an important part of my purchasing decisions. I am sure that more than 16% of Westerners would agree, at least in their home markets.
According to Philippe Coquelle, Director of Automotive Research, ACNielsen China, dealerships have an opportunity to play a bigger role in bridging the relationship between the car brand and its buyers.
I agree entirely, but I wonder whether consumers are prepared to listen? Is the low ranking of dealerships in China because the dealers are not trying hard enough, or simply a case of the "Xiangyang market factor" at work, whereby the fear of being sold a lemon builds in direct relation to the salesperson's efforts.